Build Your Self-Confidence Now

Are you ready to over come your shyness and lack of self-confidence?
Just imagine how your life would improve if you could build up your self-confidence. This powerful yet subtle Hypnosis recording, if used daily over a period of 30 days, will enable you to become the self- confident person you've always wanted to be.
How can this be? Well, have you ever known a confident, successful person who expected to be a failure?

Unlikely.

On the other hand did you ever meet someone who always thinks and speaks only of failure who ever became a great success?

Again, this is unlikely because when you think failure this becomes the most likely outcome, when you think confidently, you become confident.
"You win when you expect to win, you succeed when you expect to succeed," is one of the most practical unwritten laws of life. This recording gently but persistently directs your thinking towards the success track.

May be you haven't realized it until now, but you already have the seeds of self-confidence within you. This down loadable MP3 recording will bring those seeds to life for you. You can be the one who is thinking those confident thoughts.

Clients recommend this effective recording to friends because it is:
based on countless hours of experience at my Hypnosis practice at the Queen Elizabeth Health Complex in Montreal, and
for those who can't be in Montreal, it is the closest experience they can have to actually being in a personal session with me in my office.
With the help of this recording and just a little effort from you, you can expect to do great things in your life. Just what are you waiting for?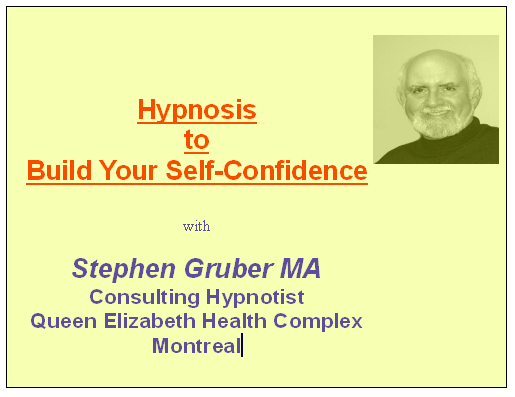 Down load this MP3 Hypnosis recording now for only $19.99 CAD
(Pay with Paypal or credit card. All payments are secured for your protection)
(secure ordering)






---
If not now, when?
If not here, where?
---