Get Things Done & Move Forward Now:
Make Decisions Without Anxiety

Do you:
Lack the ability to make decisions and stick to them?
Doubt your ability to make good decisions?
Lack the confidence to make the decisions to get things done and move ahead in your life?
How good would you feel if you could:
Take decisions confidently?
In a relaxed manner, deciding easily what has to be done?
No longer be distracted away from what has to be done?
Succeed and enjoy your life more?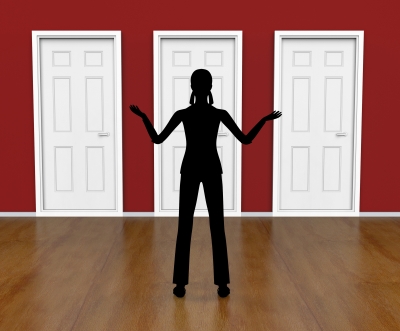 Well you do not have to spend your life second guessing each decision you need and want to make.
Just imagine the ways:
In which your life would improve,
The satisfaction you would feel,
The more free time you would have for yourself,

when you no longer worry over deciding to get things done.
There is a way to train your mind so you can experience all those good things. It's not even that hard. The problem is that you have never been shown how to do it before.
Can't Make Decisions When Anxious
Typically, we believe that we must have a weak character, or lack the willpower, knowledge or confidence to make and carry out the decisions that are right for us.
That is why so many people resolve to become more decisive but never succeed. They know what they should be doing but there is a part of their mind that just won't let them get on with it.
That part of the mind is your subconscious mind. It has somehow mistakenly got hold of the idea that it is protecting you by not letting you make a decision and stick to it.
Well you weren't born with that mistaken idea. Somehow, somewhere you learned it and it got stuck in you subconscious mind. And you know how powerful that part of your mind can be.
The beliefs that get stuck in your subconscious mind can easily defeat any logical thinking you do. Or any sheer will power that you can muster for that matter.
What you need to do to succeed is communicate directly with your subconscious mind to change the mistaken belief that is has got hold of. Only then can you can free yourself to start making the decisions you need to to get your life sorted out and experience success.
Hypnosis Can Help You Make Decisions Easily
The way you do this is not hard. Many people have discovered that they can do it easily using self hypnosis.  Hypnosis is a natural way of communicating directly with the sub-conscious mind.

Self hypnosis is an:
Easy to learn,
Natural,
Safe, and
Proven
way of re-training your mind to work the way you want it to work.  Using self hypnosis you keep complete control of the process.

Find out just how easy and enjoyable that is for free. Experience my Manage your stress hypnosis mp3 session and clear your mind for taking the right decisions when it matters.  Learn how here.
If you would like some even more direct hypnosis help you may have a customized hypnosis session mp3 personalized specifically for you.  Discover how this works here.
Which ever route you go, do it right now because this could be the best decision you've ever made for yourself. The time for regrets and missed opportunity is over now!

With you on the path to success,
Stephen Gruber MA
Consulting Hypnotist,
Montreal
Looking for Hypnosis Help?
Ask Stephen Gruber if you feel in need of hypnotic help or are wondering if hypnosis could help you. He will answer your questions and guide you.

---
If not now -when?
If not here - where?

---
---
If not now -when?
If not here - where?

---
Like what you have found here?  Please share the ideas by clicking on the link(s) below. Friends will  thank you!

Return from Can't make decisions anxiety to Home page

Image by Stuart Mills from www.freedigitalphotos.net